Welcome Students and Parents!
We are a ministry of the Most Pure Heart of Mary parish, built on a foundation of Faith, Academics, and Service!
Families are not required to be Catholic to attend; all faith denominations are welcome! St. Mary School is celebrating its 143rd year of providing quality education to our community! Our school first opened on December 8, 1880. Maintaining our school's Catholic identity is paramount. We are able to do so through our curriculum as well as our service to others. Our students take active roles in mass weekly. Participating in service projects is another means by which we help our students not only develop a sense of global awareness but also a desire to make a difference in the world.
Our expert teaching staff brings our students a carefully planned focus on our academic goals throughout the year while at the same time, nurturing their spirits, developing positive self-esteem, and fostering a love of learning they will carry into the future. This year the staff is working hard on writing a new continuous improvement plan in order to renew our accreditation. The students in grades k-6 participate in web-based achievement testing that provides immediate results to teachers so that they may plan instruction according to the individual needs of the students. We are blessed to have the support of our School Advisory Council and the Parent Teacher Organization to help keep our school flourishing.
Year over year, the St. Mary faculty and staff continue to review and improve how we manage the classroom experience for each student. This year specials classes such as Spanish, art, music, social skills, technology/coding, or gym will be offered daily. STEM missions and project-based curriculum has been added this year for all students K-6. Math has been upgraded to Eureka2 and our literacy team has integrated many new Fountas & Pinnell resources to aid in reading.
Through the continued cooperative efforts of Father Chris, our school & parish staff, students, parents, and parishioners it is our mission at St. Mary to work together to share faith and foster a passion for learning. Since 1880, St. Mary has been a tradition in the community of Shelby, offering a Christ-centered education for students where faith, academics and service are the cornerstones.
Our History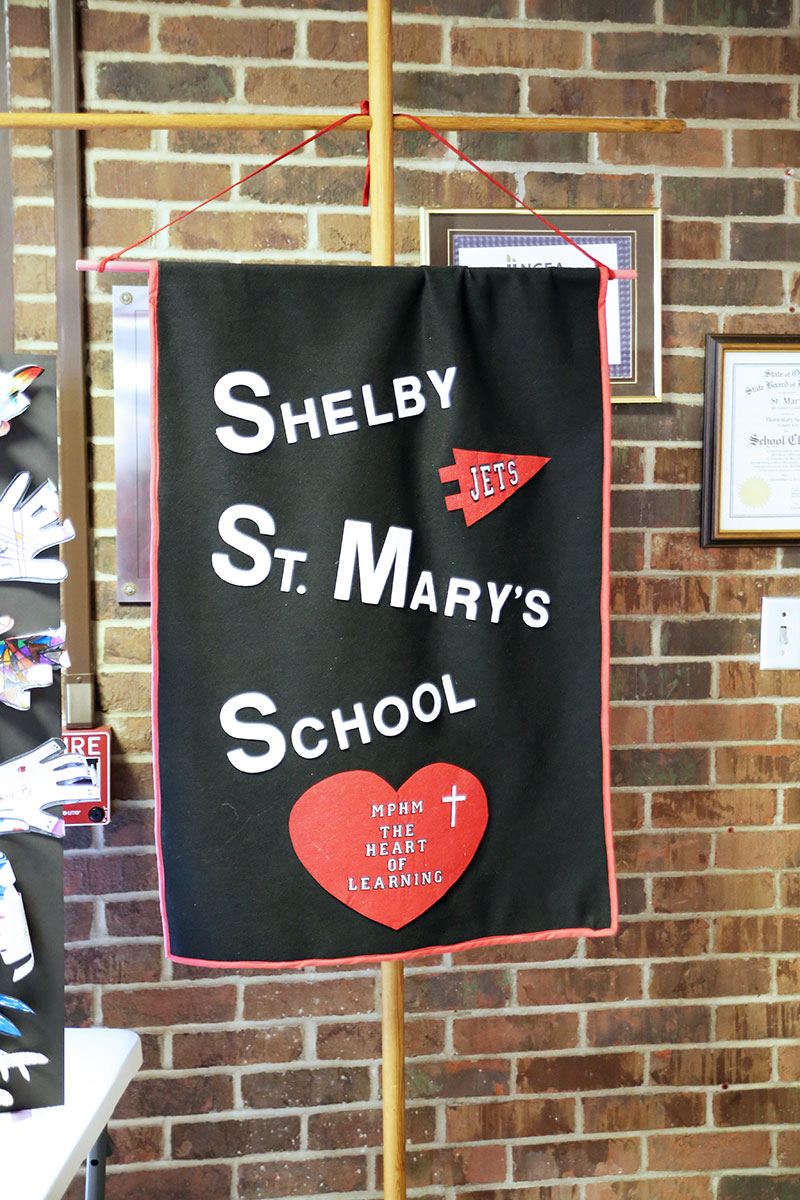 Our school first opened on December 8, 1880. Then in 1910, the cornerstone was laid for a new school that was completed the following year. The new St. Mary School was an imposing building, two stories high with a large basement. It faced Raymond Ave. and had two large classrooms on each floor. There were two grades taught in each room. At first there were only outside toilets that became known as "Jake" and "Lena."
In 1969, a new St. Mary School opened (our current building) its doors for the first time. A rather unique building, incorporating a modern concept in school architecture, it became the pride of the Parish. Each classroom is an individual unit with its own entrances from Raymond Ave. and exits on the courtyard.
In 1976, Mr. Henry Frankl authored a booklet entitled, The Building of a Parish – The History of Shelby's Catholic Community. For this, and his many other contributions to our community, we give a special thanks.
Our school's operation is funded by the generosity of our Most Pure Heart of Mary Parish and the added financial contributions of our school families through tuition. For information on how you can help to support St. Mary School, please contact the school 419-342-2626 or Most Pure Heart of Mary parish office 419-347-2381.